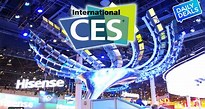 CES 2018 - Blogging from Las Vegas
Jan/18/2018
So here I am in Las Vegas reporting for my very first Consumer Electronics show. I am trying my hardest to be my geekiest self but so far am falling woefully short. The show didn't actually start today but that doesn't mean I didn't see a lot or have a lot to say.
My first interview was with the shuttle driver who made the claim that he was the man who picked up the wounded in his truck while bullets flew overhead from a Mandalay Bay room last year. He was interviewed by all of the cable news networks and was officially declared a hero by Anderson Cooper. The young man went into graphic detail about the carnage and I have no doubt for not believing his story. What struck me as odd was that the reason he shared his story was to make the point that thus far has only receive $1000 from a Go Fund Me account to reward heroes from that horrible night. I felt bad for him because he seemed to be stuck in the horrific post traumatic shock of that night, while the rest of us, have moved on.
I share this with you because his experience is juxtaposed with a convention in town that reveals the wonders of 21st Century technology and how our lives will be transformed. It hit me that until we confront hate, discrimination, mental illness, and guns in our country, known of these new innovations matter. Maybe we could deploy AI technology to promote more kindness and wellbeing.
While the show is just underway, I do have some observations from my first day at the Convention:
· A bottle of Sierra Nevada Ale will set you back $18.
· The displays seem to be split between the Titans of the electronics industry, like Samsung, Ford and Intel and startups that most of us never heard of before.
· I got to see a number of the cars of the future and, believe me when I tell you, what they're capable of doing will render our need to drive them totally unnecessary, and actually dangerous.
· It's only been one day but I've yet to observe anything that I would put in the category of breakthrough or unbelievable.
· I watched the Alabama Georgia National Championship game on humongous screen at the sports betting center at Mandalay Bay. It's truly fascinating that in Vegas you can bet on virtually everything and anything.
· I enjoy observing sports enthusiast who drink from bottomless buckets of bottled beer and believe they can call plays better that college football coaches the likes of Nick Saban.
· And I've thoroughly enjoyed the locals as they seem to be genuinely caring friendly and kind. Having said this, I really don't think that there's much I care about Las Vegas. I am glad that what happens here stays here.
CES begins in earnest today and it is my hope that I have lot more exciting and interesting things to report out to you tomorrow.
Have a great day!
Bob